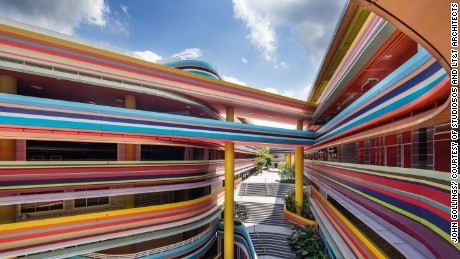 (CNN)It's easy to dismiss the way a school or university looks. As long as it's functional, the more pressing educational concerns for parents are usually the curriculum, quality of teaching and exam results.
But the way educational buildings are designed — from classroom layout in elementary schools to shared, collective spaces on college campuses — can have a huge influence on learning.
They have recently selected 12 innovative, thoughtfully designed schools for this year's Education Facility Design Awards.
CNN Style spoke to John Dale, the chair of AIA's Education Committee and principal at Harley Eliis Devereaux (HED) architects and engineers in the U.S., to learn the most important lessons in good school design.
"What we really should be doing is learning from the very best examples of schools that were designed exclusively for children with special needs because the best ones that I've seen are very successful. The more you get into that you find that you are creating a space that all children should have as part of their learning experience."
Connect with the community
"Well-designed schools that are centers within their communities are organized in such a way that certain parts of the school (like a gymnasium or small auditorium) are more readily accessible for community use."
Modernize learning environments
"One of things that's interesting is to think about how long a student is going to spend in a given space. If you think about a college environment, you will probably see that the most innovation and the most memorable spaces are the collective spaces. If you were to look at some of the most exemplary elementary schools, you'd really be focusing on the cluster of learning spaces and how effective that is."
Take a look through the gallery above for more images of the world's cleverest schools.
Read more: http://www.cnn.com/2016/09/13/design/worlds-best-school-designs/index.html